What Pre-1985 Video Game Character Am I?
What Video Game Character Are You?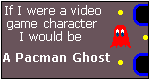 I am a Pacman Ghost.

I like to hang around with friends, chatting, dancing, all that sort of thing. We don't appreciate outsiders, and do our best to discourage others approaching us. I enjoy occasionally wandering around randomly, and often find that when I do so, I get to where I wanted to be.
To include the above on your page, simply copy and paste the HTML below.

The Pre-1985 Video Game Character Test was created by RavenBlack. It is entirely in fun. Don't think you have special powers just because the test tells you so. It is not serious, and not to be taken internally. So don't.