What Pre-1985 Video Game Character Am I?
What Video Game Character Are You?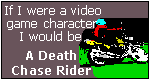 I am a Death Chase Rider.

I enjoy taking risks, and I get kicks from speed, danger, and death-defying stunts. I drink and drive, I bungee jump, I snowboard, with no regard for my own life, or the lives of those who stand in my way. Trees? I laugh at trees!
To include the above on your page, simply copy and paste the HTML below.

The Pre-1985 Video Game Character Test was created by RavenBlack. It is entirely in fun. Don't think you have special powers just because the test tells you so. It is not serious, and not to be taken internally. So don't.