What Pre-1985 Video Game Character Am I?
What Video Game Character Are You?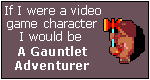 I am a Gauntlet Adventurer.

I strive to improve my living conditions by hoarding gold, food, and sometimes keys and potions. I love adventure, fighting, and particularly winning - especially when there's a prize at stake. I occasionally get lost inside buildings and can't find the exit. I need food badly.
To include the above on your page, simply copy and paste the HTML below.

The Pre-1985 Video Game Character Test was created by RavenBlack. It is entirely in fun. Don't think you have special powers just because the test tells you so. It is not serious, and not to be taken internally. So don't.