What Pre-1985 Video Game Character Am I?
What Video Game Character Are You?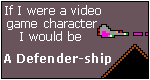 I am a Defender-ship.

I am fiercely protective of my friends and loved ones, and unforgiving of any who would hurt them. Speed and foresight are my strengths, at the cost of a little clumsiness. I'm most comfortable with a few friends, but sometimes particularly enjoy spending time in larger groups.
To include the above on your page, simply copy and paste the HTML below.

The Pre-1985 Video Game Character Test was created by RavenBlack. It is entirely in fun. Don't think you have special powers just because the test tells you so. It is not serious, and not to be taken internally. So don't.