What Pre-1985 Video Game Character Am I?
What Video Game Character Are You?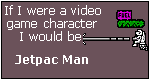 I am Jetpac Man.

I love the outdoors; the sense of freedom, of adventure. I love the sensation of free-fall, and would parachute and bungee jump on a moment's notice. I know where I want to be, and I strive to get there, making great effort to collect what I need. I let nothing stand in my way.
To include the above on your page, simply copy and paste the HTML below.

The Pre-1985 Video Game Character Test was created by RavenBlack. It is entirely in fun. Don't think you have special powers just because the test tells you so. It is not serious, and not to be taken internally. So don't.