What Pre-1985 Video Game Character Am I?
What Video Game Character Are You?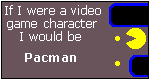 I am Pacman.

I am an aggressive sort of personality, out to get what I can, when I can. I prefer to avoid confrontation, but sometimes when it's called for, I can be a powerful character. I tend to be afflicted with munchies constantly.
To include the above on your page, simply copy and paste the HTML below.

The Pre-1985 Video Game Character Test was created by RavenBlack. It is entirely in fun. Don't think you have special powers just because the test tells you so. It is not serious, and not to be taken internally. So don't.